Costa Brava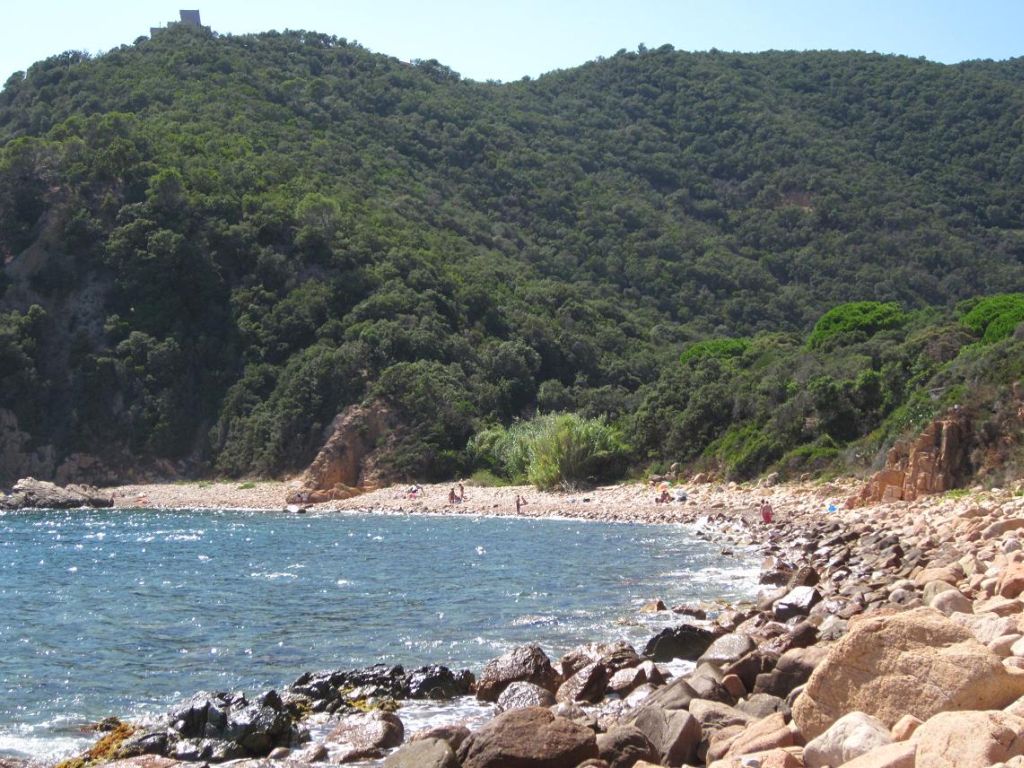 CostBrava report by Marco
This year I had the opportunity of discovering nice places for nudists located on the north-eastern coast of Spain, very close to the French border, in Girona province.
I found out these places during one of the tours I made with my motorcycle. Yes, I am a passionate rider. I love motorcycles as much as nudism. And I love taking tours with my motorcycle so much … sometimes even without precise plan and organization. That was the case for this tour of mine. When I left from home, I was not sure about my final destination. You know, I am a nudist biker, a real free spirit! After riding across the internal regions of Southern France (and stopping around Cape d'Adge for a couple of days to relax and enjoy the sea and the beach), I reached Spain and spent a few days close to L'Estartit, a beautiful small town and seaside resort on the Costa Brava.
While Cape d'Agde is fine for some people, it is not everybody's choice for a naturist vacation. I prefer the more relaxed and intimate environment of small beaches and coves, which are difficult to find at France's Mediterranean beaches & resorts. The Costa Brava offers a good alternative, boasting of several beaches and coves where naturism can be enjoyed. For the adventurous, the Costa Brava hides many surprises just waiting to be discovered by those ready to seek them out. For a naturist like me, seeking these relaxing nude beaches usually takes the highest priority over other holiday activities!
Here below you can find some notes about my trip and the nudist opportunities I discovered. I have also included a gallery with some beautiful views of the places I visited. Having a motorcycle helped me be free to move along the coast and stop whenever I wished to, even just to take a picture.
By the way, I am not going to report about my days in Cape d'Adge, Over the years my dear friend Chris has made great and detailed reports that you can find on the nudistparadies website, so, if you have any interest in that place, please, make sure to review them.
How to get there
I went to the Costa Brava by motorcycle and that turned out to be the perfect choice: I was able to visit the places around and discover fine sandy beaches, peaceful coves and spectacular cliffs.
I decided to stay close to L'Estartit, a small town located in the heart of the Costa Brava, with easy access from other Spanish coastal resorts and also from Girona, Barcelona and the French border, along the AP-7 motorway (exits 5 or 6).
The nearest international airports to L'Estartit are Girona-Costa Brava (about 50 km) and Barcelona (about 150 km). In my opinion, if you decide to fly to Costa Brava, you'd better rent a car (or a motorcycle) to move around.
Where to stay
In the area you can find all sorts of accommodations: hotels, camping sites, apartments, rural tourism farmhouses. It's up to you to select the right one depending on the type of vacation you wish to take (and of course the budget you have!)
You might want to consider to stay in the naturist campsite Relax-Nat. It is situated in a forest and farmland near the town of Mont-Ras (Gerona), not far from the most beautiful beaches of the Costa Brava. Please check www.campingrelaxnat.com for all the details.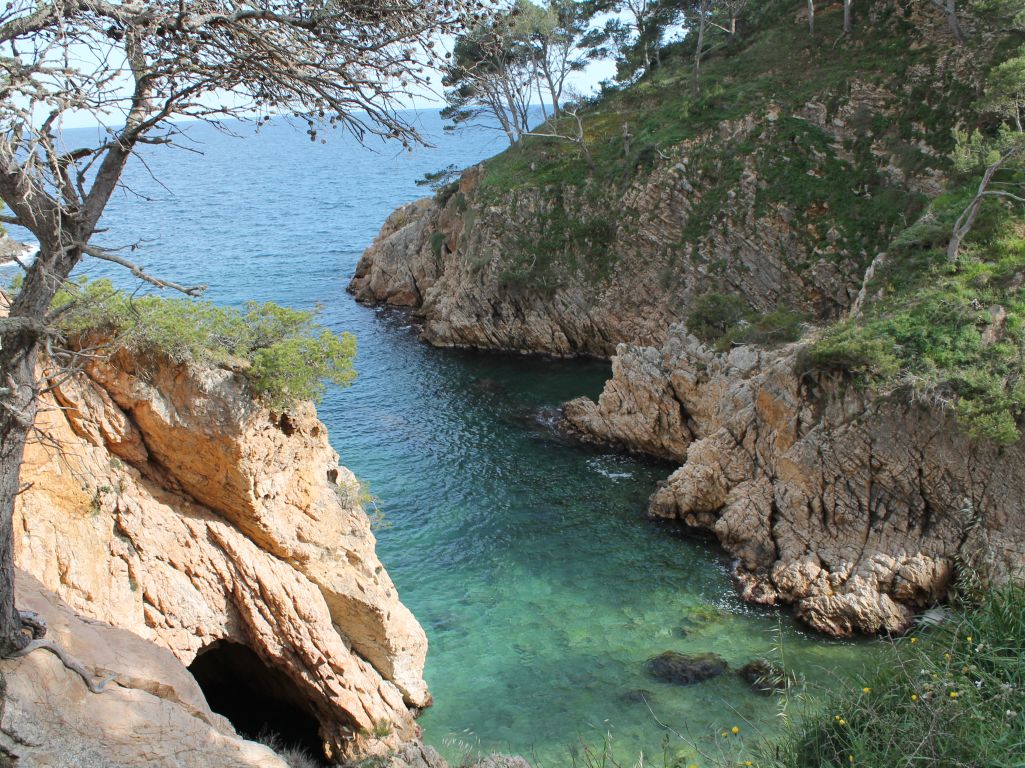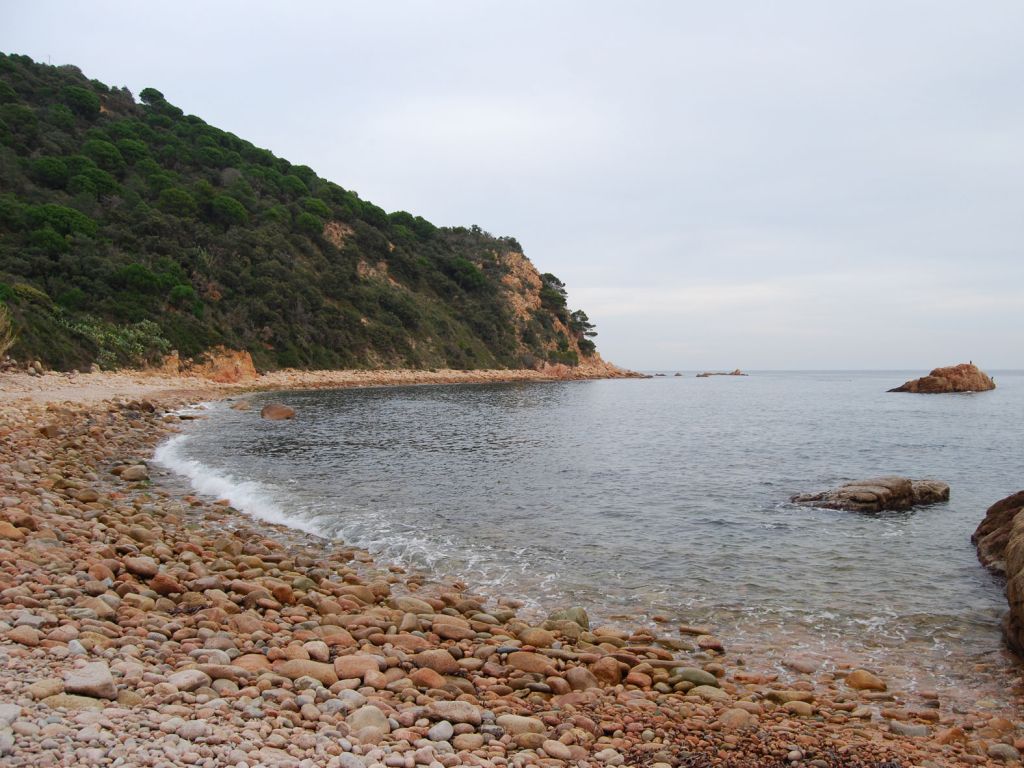 Nudist coves and beaches on the Costa Brava
Although nudism is not common on the majority of the beaches, fortunately, you can discover many nudist places in the Costa Brava, where you can indulge in a spot of uninhibited naturalism. There are many little corners, sandy beaches and small peaceful coves with spectacular cliffs, that for any naturist could be considered a paradise thanks to their welcoming and natural environments, an addition to the pleasant climate.
From France the very first naturist beach lays only about 20km from the border. Playa Cap Ras beach, which takes its name from the adjacent Cape, is about 5.5 km. north from Llanca.
The peninsula that culminates at Cap de Creus and the surrounding areas hide several more small beaches where visitors can expose their skin to the warm sun, surround themselves with nature, and bathe peacefully in the Mediterranean waters.
Heading south, in the middle of Roses Bay near the town of Sant Pere Pescador, you can find an immense stretch of sand broken up by frequent rivers and streams. Naturism is practiced in many places along this stretch.
Here are some beaches and coves located on the Costa Brava that I happened to visit during my stay and where I enjoyed being nude. I am pretty sure more could be found out if I had prolonged my stay… OK, one more reason for me to get back, maybe next year J
Cala Nans
The beaches of Cadaqués are generally busy, and not the ideal place for nudism. Cala Nans, however, is a quiet virgin beach with clear waters and a beautiful natural setting. To get here, however, be prepared that you'll have to walk 2-3 km. It occupies the majority of the north side of the Cap de Creus, and is a small, untouched beach located far away from any city centre. It is a rocky beach that faces out to the North, characterized by the presence of a restored lighthouse that was built in 1874. It is a particularly good place to visit as it is exposed to hardly any noise and it is located in the wilderness that has an abundance of small beaches and hilly areas for excursions.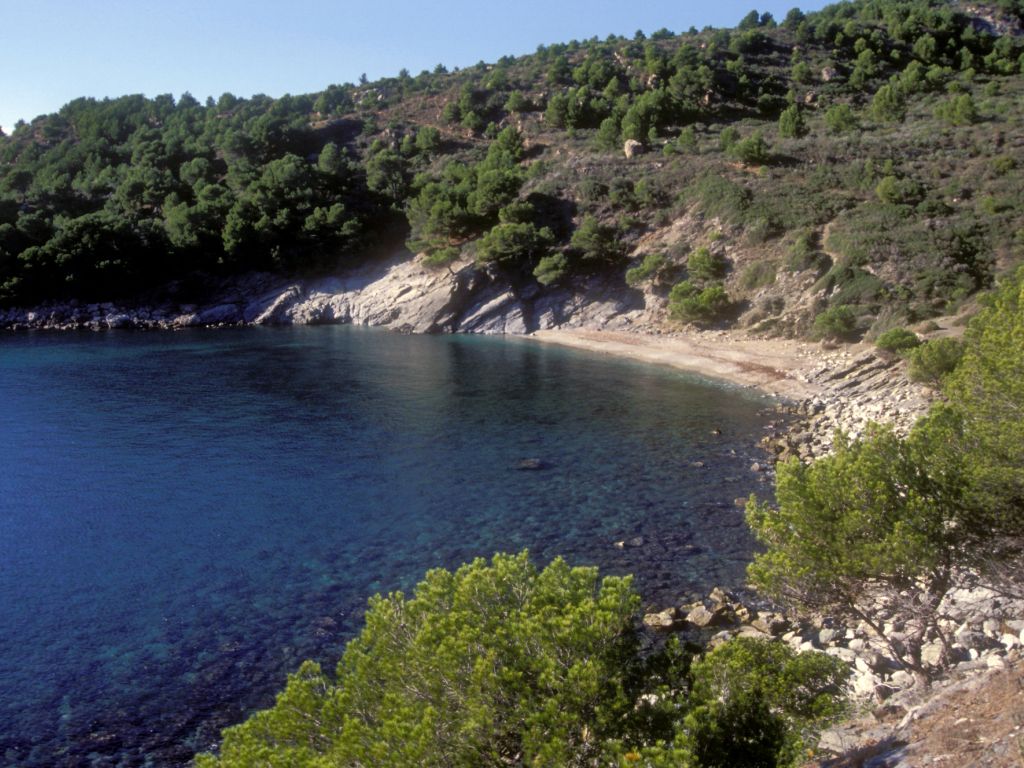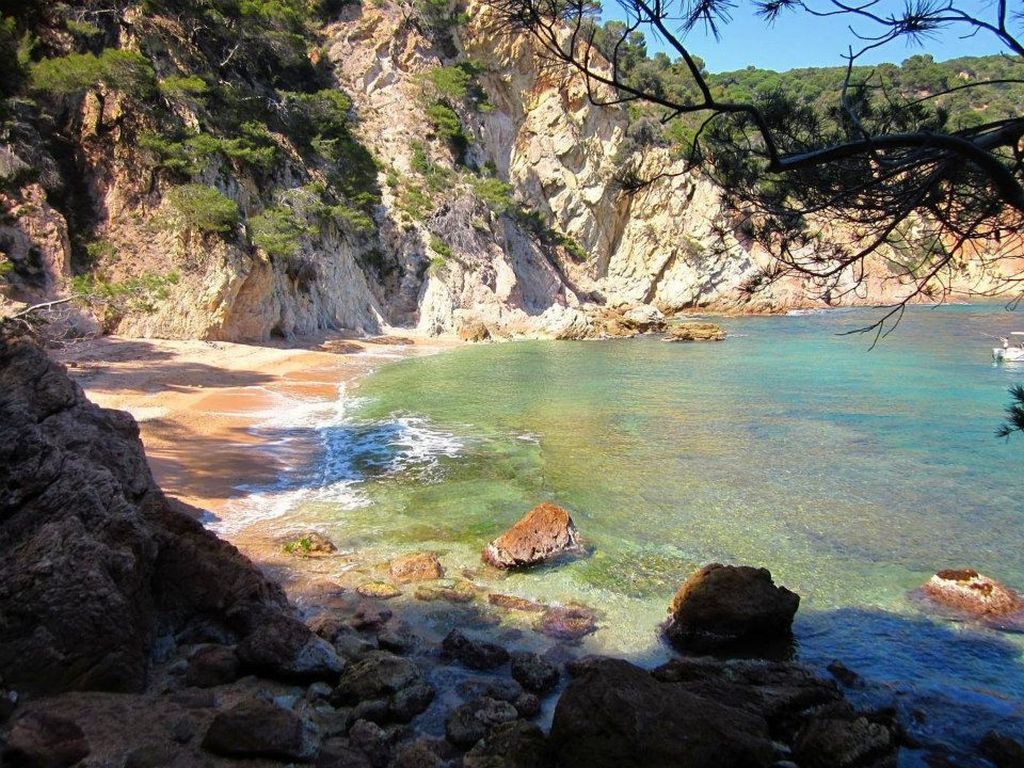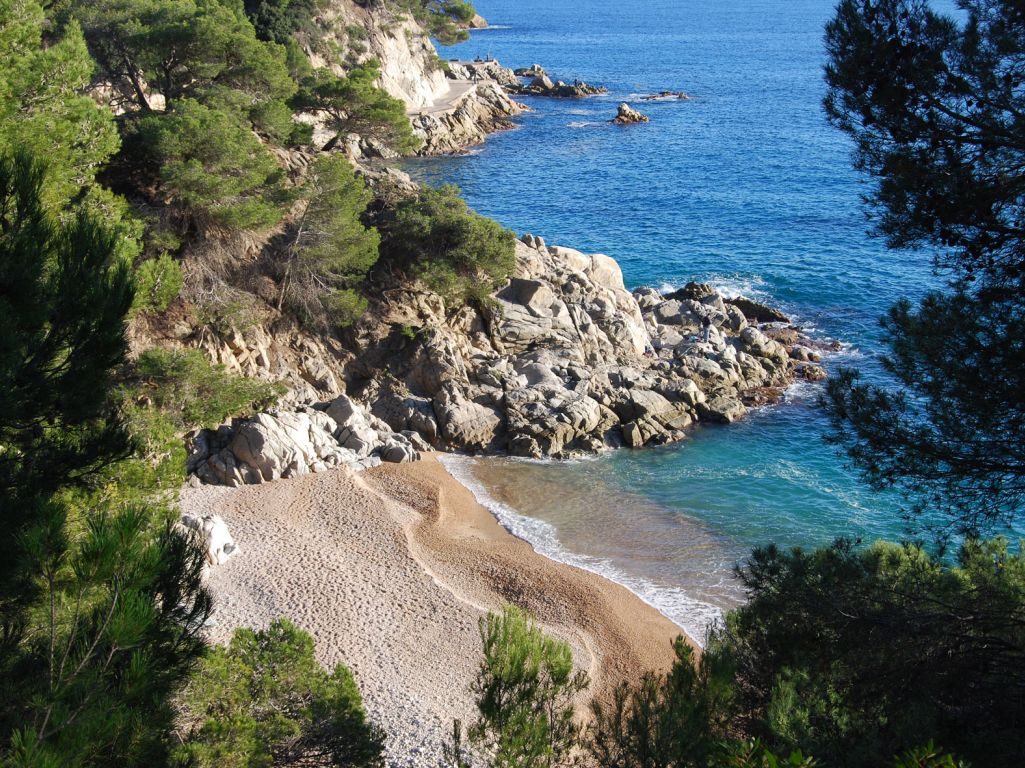 Cala Murtra
In Roses you can find Cala Murtra, an entirely semicircular beach with sand and stone combination ground. Cala Murtra is an isolated beach, away from the hustle and bustle of Roses and hidden away by mountains. In fact, the Cala Murtra is located far away from any towns and main roads, thus you have access this area on foot. Cala Murtra location is between Punta Falconera and Cap Blanc, just a few kilometers south of Montjoi bay, on the Montjoi Jancals road. The cove is surrounded by the pinewood accompanied by mastic trees, rosemary and myrtle, the plant that gives the cove its name.
Cala Senyor Ramon
Along the Tossa de Mar road you find more excuses to throw your clothes aside: not many textiles would bump into these secret spots. Cala Senyor Ramon is the first most northern of three consecutive beaches, probably the widest. It is actually a broad sandy beach surrounded by cliffs and has impressive and very clean, almost transparent, waters.
Cala Vallpresona
Cala Vallpresona is both difficult to find and to access. Quite an effort for the hardy, yet the rewards can be blissfully appreciated and fulfilling. Cala Vallpresona is characterized by its pine wooded slopes. A narrow broken path takes about ten minutes to descend to the beach. The beach is rocky but with a few sandy spots to lie on. You may also wish to be nude on the path, since only naturists use it, especially when climbing back up. And beach shoes are recommended. Peaceful and friendly, you should seriously consider this place for a few days' rest!
Sa Futadera
Finally, Sa Futadera located in Tossa de Mar is an area surrounded by cliffs and thick sand, and it is bordered by an abundance of vegetation. Although it is difficult to access, whoever makes it there will truly appreciate the charm of this untouched area with clean water.