Nudist holidays on the finca in mallorca must be cancelled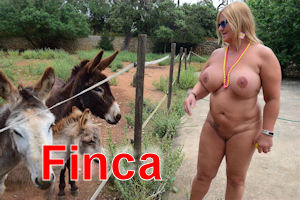 Normally I would have started on Saturday for 2 weeks on a Finca in Mallorca.
The anticipation was so big ! Together with a few good friends we wanted to spend another 2 weeks nudist vacation on the great Finca near Manacor. Everything was planned, but Corona made us a line through the bill.
Now we fight to get the money for the flights, the rental cars etc. back. For the Finca we have a voucher, maybe it will work out next year.
Until last we hoped that at the last moment Mallorca will open the doors for tourists again. But then it became apparent that there would be no Mallorca holiday before July. My suitcase would have been packed quickly. This time I only wanted to travel with hand luggage. As we were on Mallorca during our last finca holiday in May and it got a bit chilly in the evening, we chose June as the current month. Except for a few little dresses, if I wanted to go out for dinner, nothing would have had to be in the suitcase, because nudism would be a duty on the finca, 24 hours a day and that for the whole 2 weeks. Since I am already "nudist professionell", I don't mind staying naked when visitors come to the finca or the owner has announced himself. During hikes around the Finca it is too hot to wear anything anyway.
Leider will be nothing……maybe next year.
I fondly remember some beautiful moments in 2018 at the Finca