My nude hikes in France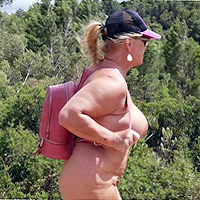 Whenever I am on holiday in France, I go for nude hiking in the Corbieres.
This small mountain range can be reached in 30 minutes from the beach. I choose a route on the map before and start.
In summer it is not recommended to hike in the midday heat but to walk in the late afternoon or in the morning. There are not many people in the back country, so I can walk naked. I leave my car somewhere, get completely undressed and start hiking. Of course I need solid shoes, a cap as a sun protection and sun milk, because the sun is really burning. In my backpack I only pack something to drink and a small towel to sit on. My hikes always last about 2 – 3 hours and are great fun. At the beginning of my hiking tours I still had something to put on. Now I don't do that anymore and that is also a little bit the attraction.
I am forced to stay naked.
I have uploaded pictures and a video of my naked hiking tour in the members area. Have fun with it.