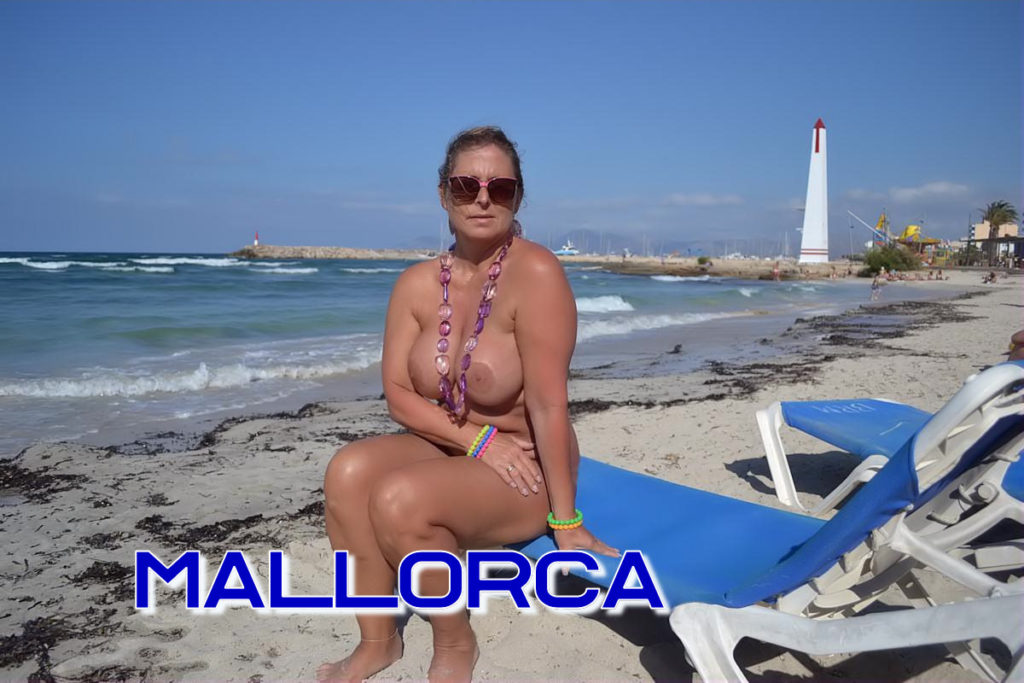 Also in 2013 I was back in Mallorca.
For a short break the island is the right choice. After only 2 hours flight you are in a great holiday world with sun garanty and beach feeling.
Only for a few days I wanted to relax. The flight with Ryanair was fast and uncomplicated booked, as well as the hotel Since I have been several times in Can Picafort and I always liked it, I wanted to go again this time. In this place, there are many advantages for me: the proximity to the nudist beach Son Serra, the proximity to the new naturist hotel Sa Punta de s'Estanyol, but also the beautiful beach promenade, where you can stroll in the evening and eat comfortably and sangria Can An offer for Majorca can still be found, regardless of how booked the trips are and what time of the year. There is still something in the short term.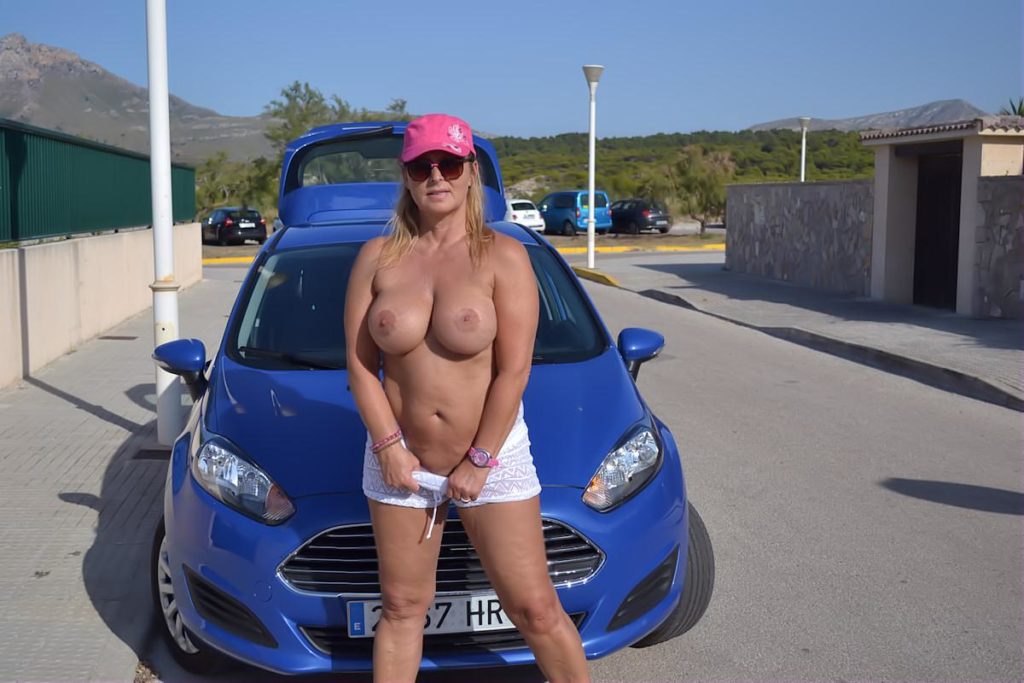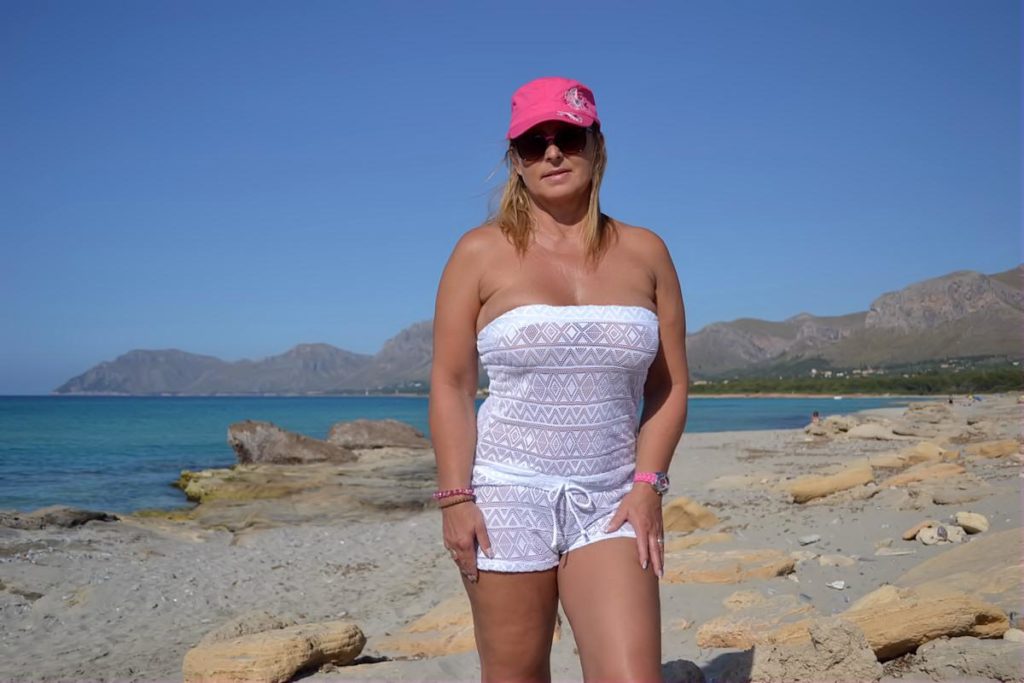 I started from Cologne. Ryanair now also flies from Cologne to Mallorca. As long as you can fly with Ryanair without large luggage, everything is good and you get quite cheaply to his tickets. But woe want one besides the 10 kg hand luggage to take even more, then it becomes expensive. I think for a family with children, where everyone takes a separate suitcase for a normal holiday trip, you can also fly with the same price with Air Berlin or Tuifly, since the luggage is already included in the ticket price.
At 2 hours of flight time, I really do not care if I get something for free and get a snack or not. My rental car I had in Germany over "cheap-rent car" booked. I had paid extra attention that it was not with one of the landlords, where one had to stand still for hours in the queue at the switch. If you hire a record or at Goldcar it takes you to have your car.
What I had not respected, however, was whether the landlord has his office also directly in the terminal. I was quite puzzled when I searched the landlord Centaure and they told me that this company has no office in the terminal. Only in the search in my documents I found then actually this info. I had to go to a shuttle bus. Since it was already midday and I wanted to spend the day on the beach, I already saw myself on a long odyssey to my car. This was not so: the shuttle was waiting for me, the trip took 3 minutes and after another 10 minutes of formalities I had my almost new Fiesta with only 4000 km.
After 50 minutes drive I was at the hotel. This time I stayed at the JS Miramar in Can Picafort, a clean and simple hotel that has been getting a bit old. It is right on the beach promenade. In the evening you can fall directly into the bed after the Sangria and does not have to run still far. In Can Picafort there are several hotels in this location. In recent years, I've tried some. All have quite the same standard and are from the 70s / 80s. They have the great location advantage directly at the sea. Of course there are more luxurious houses in Can Picafort. But they all lie farther away. For my short vacation this is always enough for me.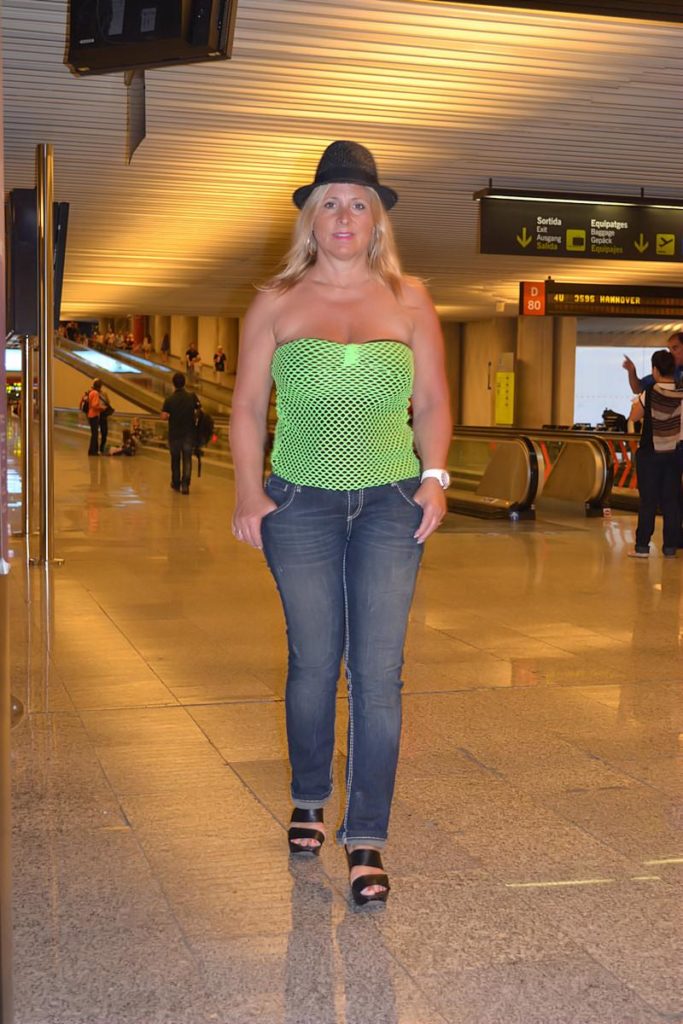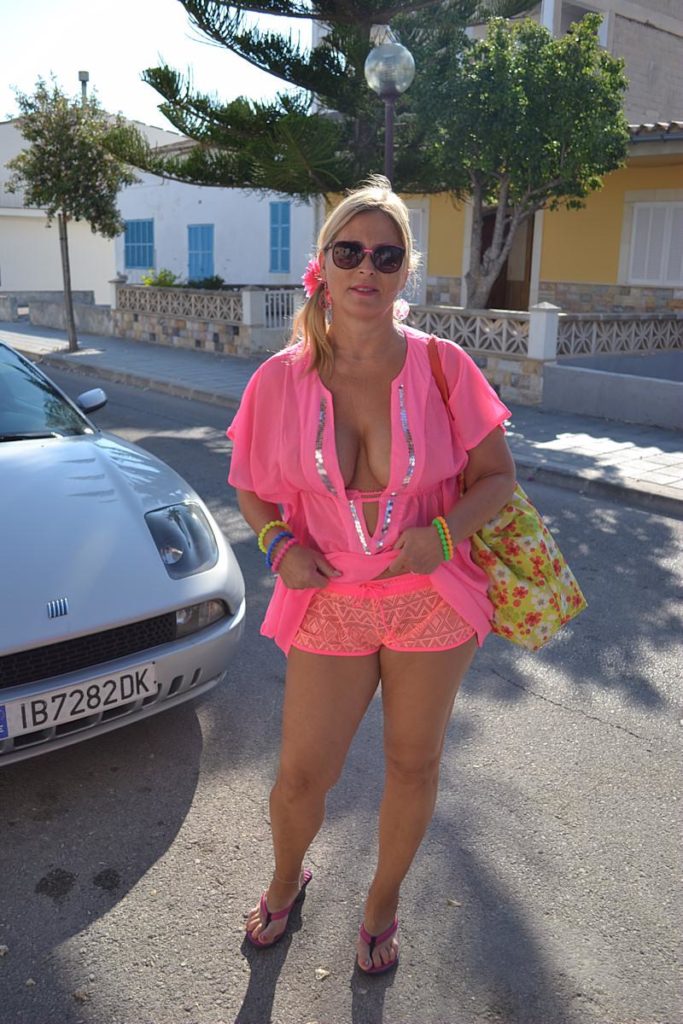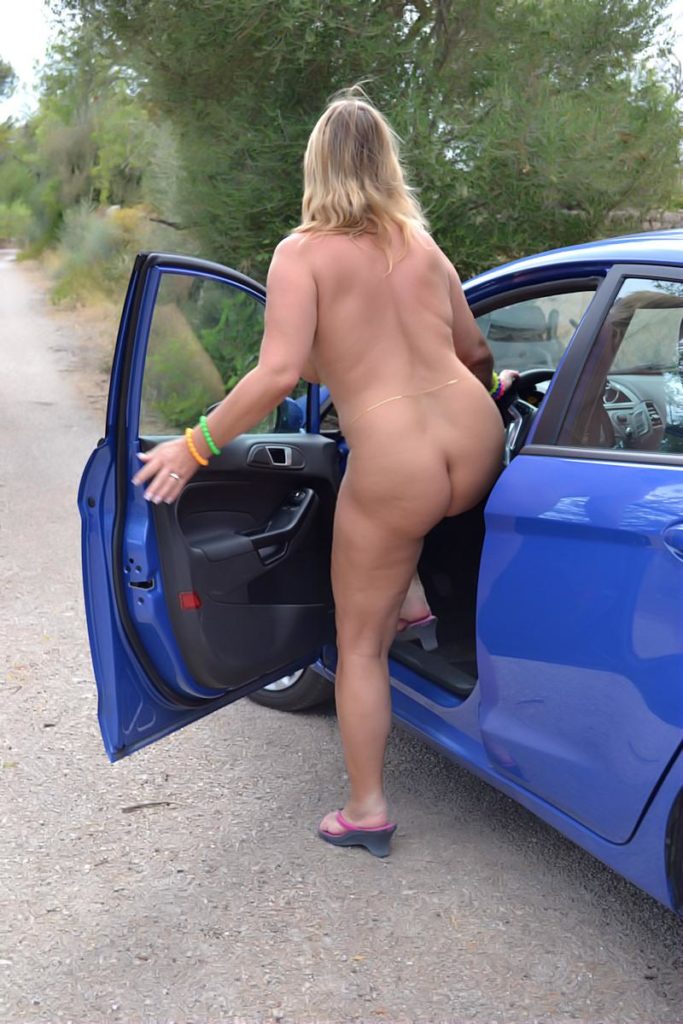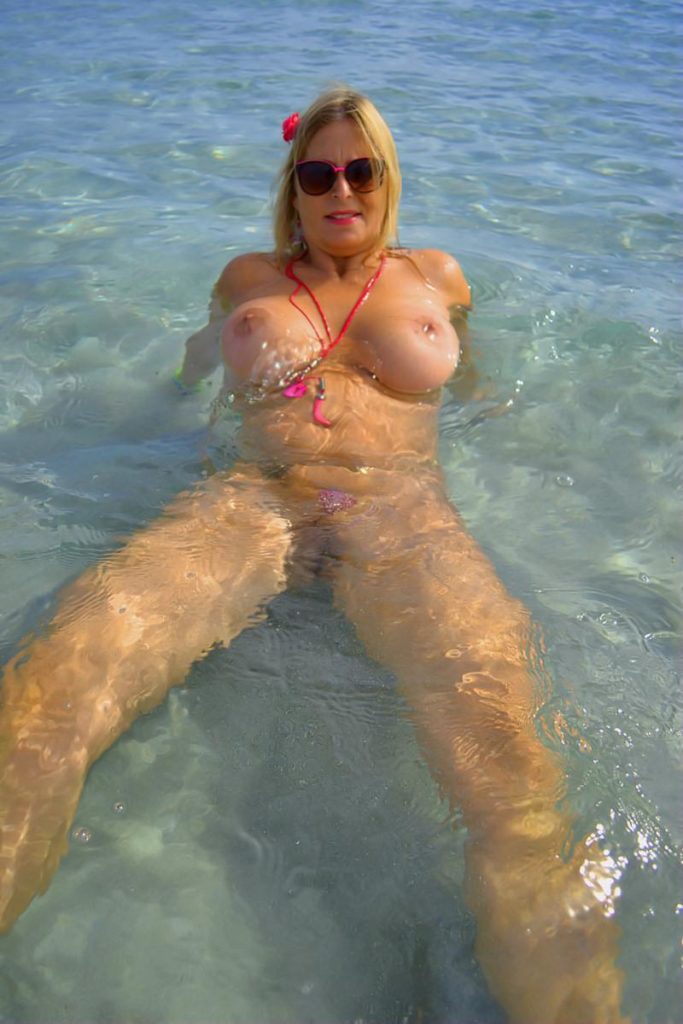 So quickly the things to the room, beach dress on and off. Well "beach dress" is probably said too much. I had bought a Jumpsuit from H & M. This one-piece is actually underwear and consists only of net. First of all, I wanted to go to my favorite beach. After 10 minzetn I was in Son Serra. Car parked, run 10 minutes to the right and clothes off. We had almost 30 degrees. It was July and the holidays were already busy in many countries. It was also crowded on the beach, as I knew from previous visits. But I was not there in July. The further you leave the restaurant, the less cluttered are the sun worshipers. In the first area are the families, including many local people. After 10 meters, many young people and teenagers, isolated up without.
After 300 meters, the unofficial naturist area begins. Here, most people are naked. So it was in any case in previous years. This time, I was wondering. The beach was well visited, the people were about 20 meters away on their towels, but barely naked. You know me, I have nothing to do with. In an instant I had pulled out the divider and ran quite obviously splitted, sometimes to the water, sometimes to the creams, etc. When I looked around after half an hour again, in my direct environment were also all people naked. This phenomenon I have observed several times. People are unsure. If one makes the start, the bikinis and swimming trunks fall. So – since the first and have courage!
In the evening then people peek and look at the promenade. I just love to stroll on the lively promenade, to go into the one or the other business udn also ever something to try.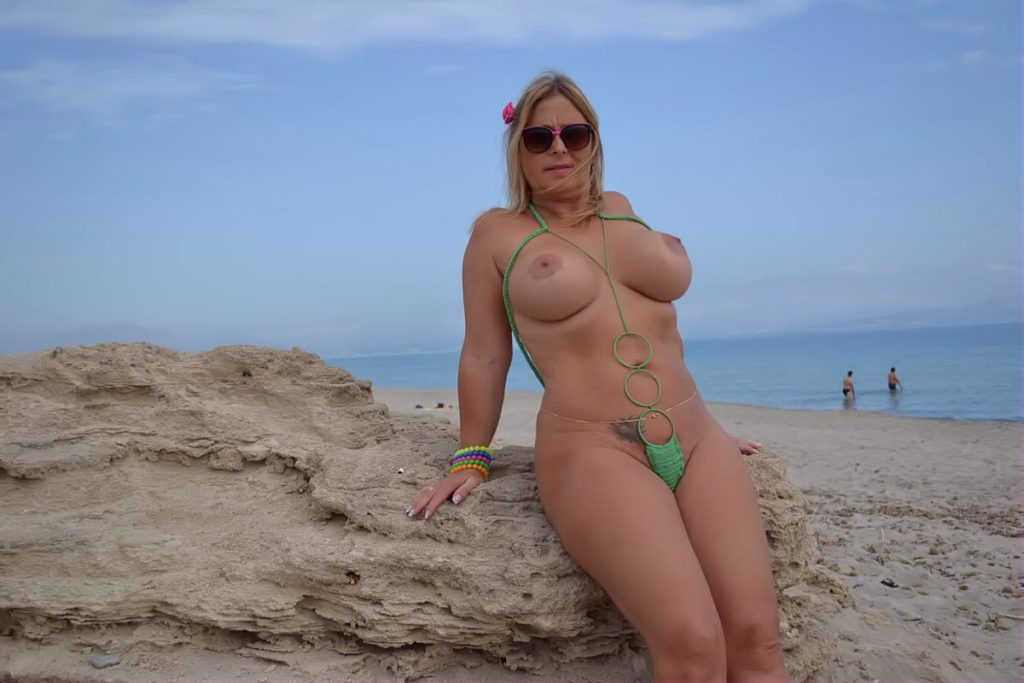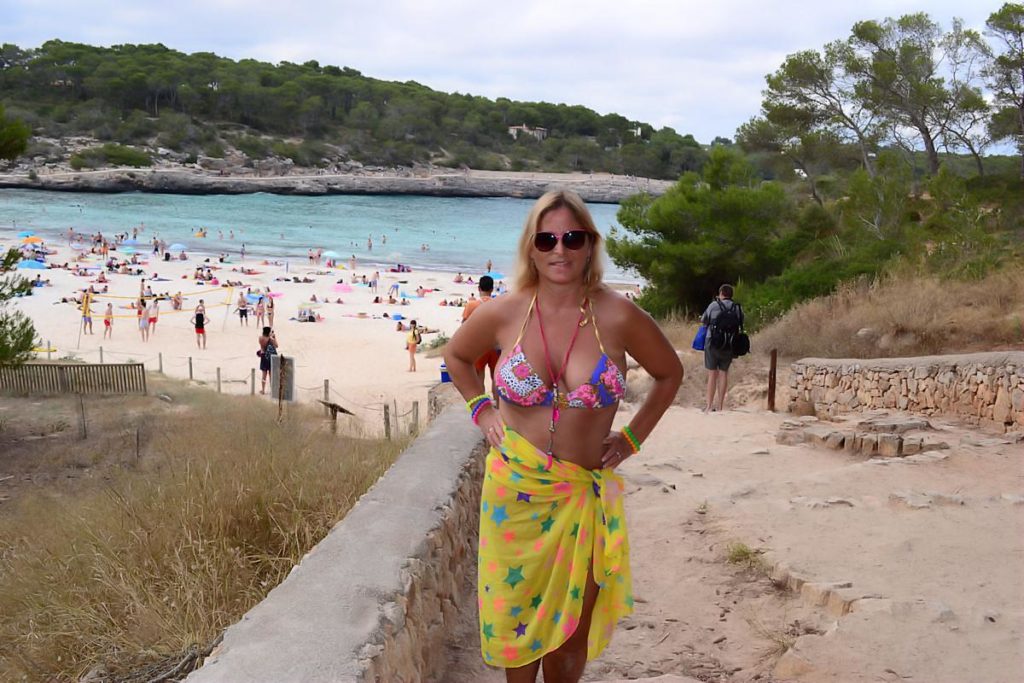 The next day I wanted to try a new beach. Since it was very hot, I decided at short notice not to sit in the car all day. So I went back to Son Serra after breakfast. I've been to the beach at 09:30. There was not much going on so I could make the one or the other shot. I took a green crochet swimsuit. Well "swimsuit" is probably too much said, except a small triangle in front of my best part, the part consists only of a few strings.
Only around noon, after a salad in the restaurant at the Son Serra beach (which you must necessarily try) then it went in the southeast direction. In the Internet I had read that there should be, at Porto Pedro the most beautiful beach of Mallorca, the beach "Amadores" in the nature reserve.
After a seemingly endless ride I was finally there. From the parking lot I had to walk 500 meters to the beach. In May it is on this beach certainly beautiful, but in July? – nix for naturists. I have learned that there are no more secluded beaches on Mallorca! That is fact. As a nudist you go to the expensive Es Trenc, there it is at this time but also very crowded, or just to Son Serra. After an hour at the beach then back again. I had a small experience at this beach. I wanted to go to the beach to buy an ice cream. Only in bikini pants I ran through the masses, bought up without my ice and am then back through the crowd again. This caused excitement. I recorded the scene by video.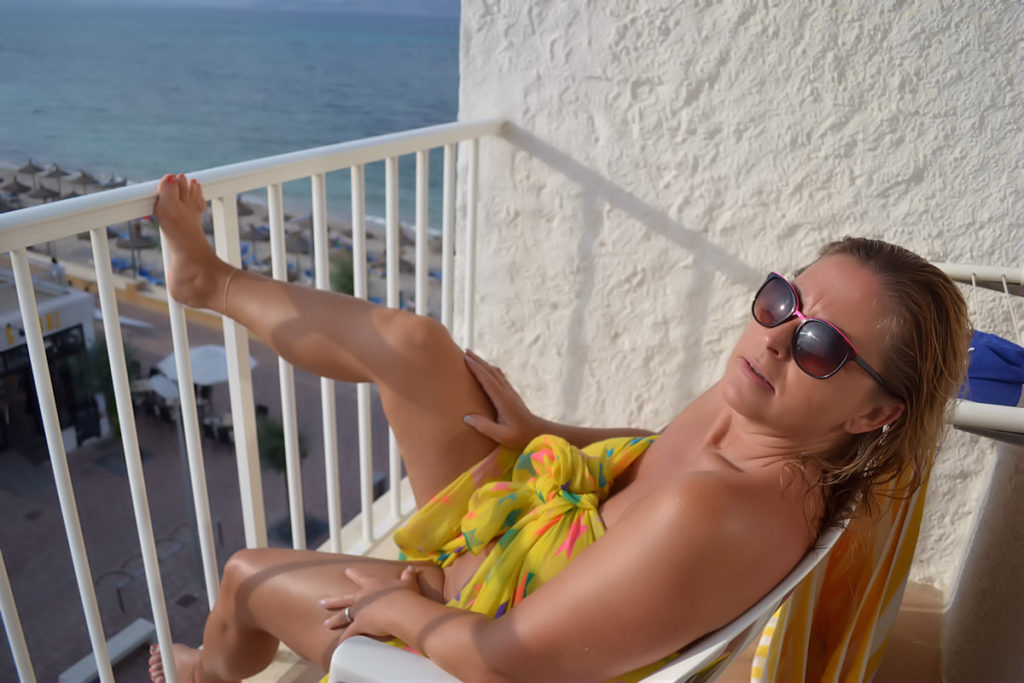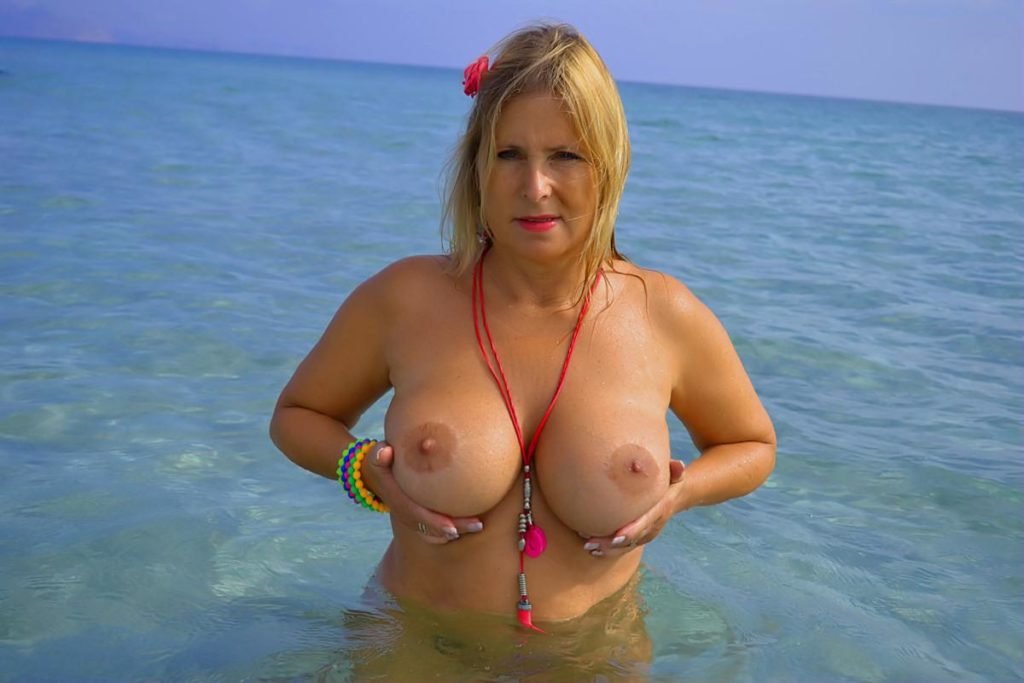 On the way back I only had my beach towel, it was just too hot.
On the third day the visit of the new naturist hotel was on the agenda. The hotel is located in Colonia St Pere, about 15 minutes from Can Picafort. I report on this visit on the separate page. Only so much – I liked it. I originally wanted to book there, but I had previously decided otherwise, since the Internet was no definite information to be received, whether the hotel is naturist hotel, or not. But it is one – and a very nice one!
In the evening then again in the sexy outfit on the promenade. The next day we went back home. I was not at Ballermann this time, I was not at Es Trenc this time. It was just too hot to make bigger tours. In addition, the ballermann is also reported everywhere. Once you see it, you know how it goes.
In summary, I can say that I like Mallorca always better. The prices are unlike France here relatively ok. There is trouble. The staff is almost everywhere friendly and attentive. For a short break but also for a longer stay I would always gladly fly to Malle. Perhaps I decide on the next trip once for the new naturist hotel Sa Punta de s'Estanyol. On Malle you have everything, you can lie on the great beach, also naked, you have entertainment in the evening. You have great scenery and also culture if you want. A rental car is however obligatory, especially if one decides for the naturist hotel. Until next malle trip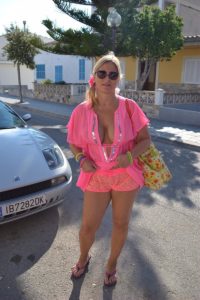 In summary, Malle remains a great destination and combines many advantages: short flight time, weather protection in the season, good prices, nude is possible with cautious restraint almost everywhere.
As always, I have of course many more pictures and also videos of my stay in Malle 2013 shot.
The entire gallery uncensored you find in my private area.