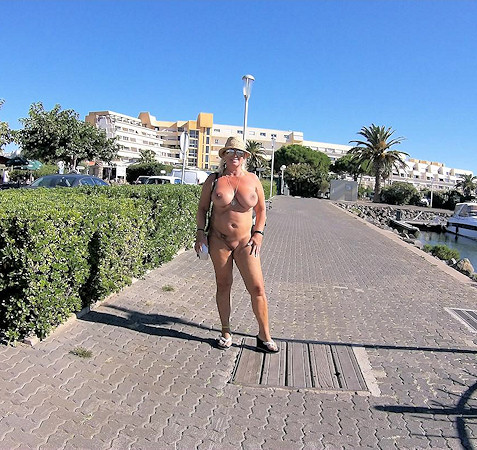 If I stay for six weeks in the South of France , of course, I also have to go to Cap d'Agde . H3>
I already had told that it became too expensive there to book for a longer stay , so it remains in day trips .
During the season, each drive in southern France is torture : traveling from jam to jam and everywhere it is full. The roads are simply not built for so many cars that move in the summer. Of course, this happens only at approximately 6 – 8 weeks in one year. So starting at 10:00 am at the Oasis , 12:00 in Cap . Normal need about 1 hour. One car, two occupants, one-day ticket 18 euros . If you have passed the gate, you're in another world . Some say disparagingly , it would be a great " zoo " , others love it .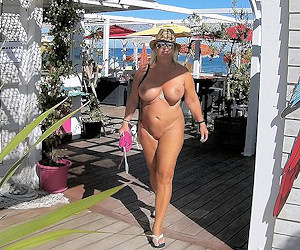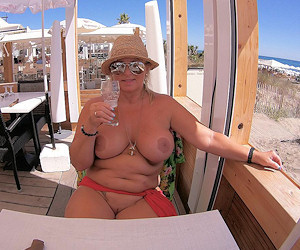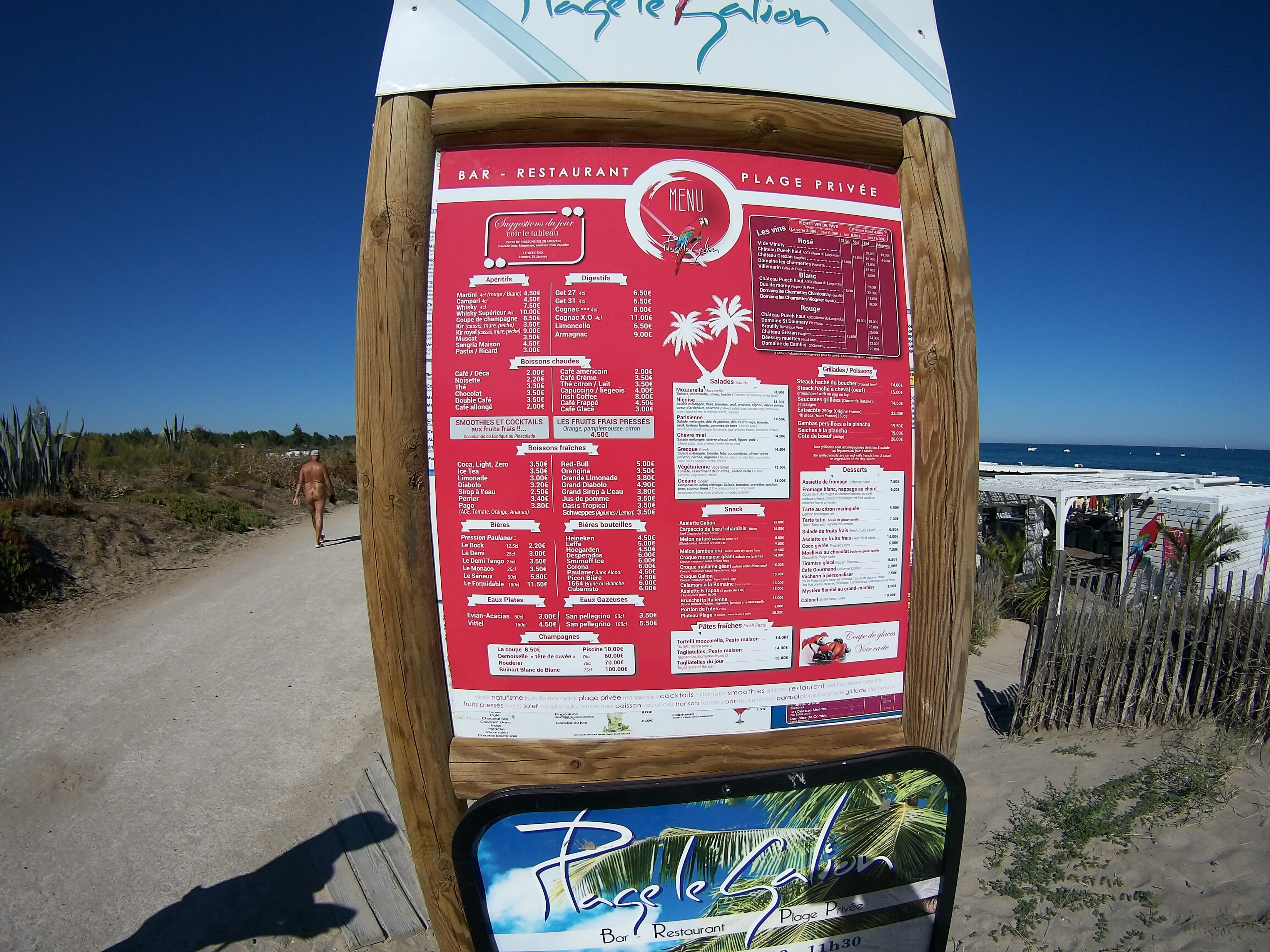 Beach-bar " Le Galion " h3>
The photos were taken at the nudist beach at Cap d'Agde .
I have photographed the menu, so you can get an idea about the prices . But one sitting very nicely there and has an overview of the beach life.
So, let´s go to the "pig beach!"

With umbrella under my arm and a small beach luggage I went back the 500 meters to the left along the water, until the "sinful beach". It was very crowded. If one was used with a respectful distance from towel to towel of about 10 meters above "normal beach", so quickly came to the feeling of tightness. To the main time I often had the feeling that my neighbors were sitting almost on my towel. Going to the sea resembled a labyrinth. The beach life was "normal" for Cap d'Agde. Here and there a cock was stroked, some gentlemen got lost with his fingers between the legs of the towel-neighbor. Sexual actions were not seen. It may be that this happened later, because around 16:30 I had enough and went back to normal resort. At Poste de Securs back and again some uniformed appeared. Here however it was the crew of a patrol boat, which came with the boat ashore. The large boat anchored off the beach. Probably the men wanted to have a look to the naked girls….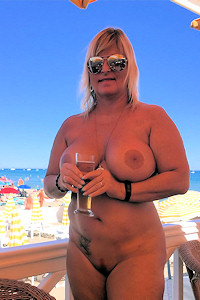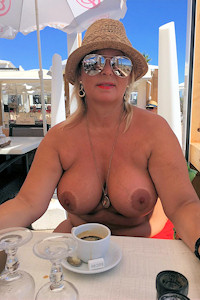 Such a tour in the Cap d'Agde is tradition for me.

I love being naked, some styled, with high heels, a nice handbag and nothing else !!! to stroll through the rows of shops, to try something here and there, in between drinking wine. That means "Cap d'Agde" to me.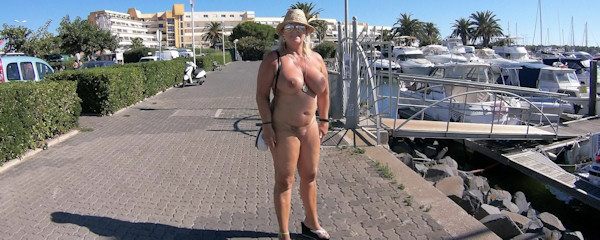 But in Cap more and more clothed people can be seen . Even in bikini ladies are running around.
This development is very sad in my oppinion . Cap d'Agde is one of the few places that allows us to really 24 hours a day to be naked . In Cap it plays the "seeing" and " seen" a larger role than in other naturist centers . If I however don´t feel well when beeing naked , I'd better go somewhere else . I myself always wonder why the bikini – wearers don´t feel totally out of place . But when ask them , they turn the tables around and call it " Naked be " as abnormal . Personal freedom or not, but in the nudist resort one is naked , who does not want it moves to the textile beach , as simple as that !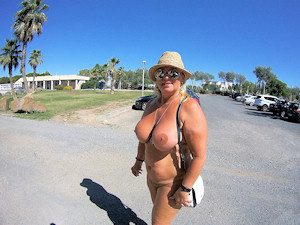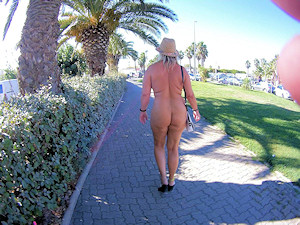 Of course, there are many criticisms of Cap d'Agde .
It is expensive, partly dirty, the architecture is from the 70s.
Many people pretend to be rich here in the front row of luxury beach chairs and drinking champagne, and everybody should see that. The women are hung with jewelry . When they come home, they need to see how to compensate for the credit line .
But such a place You will not find again in Europe , probably not in the world.
And of course I will go back, because you're just curious about the latest trends in the intim piercing, the best ideas for tattoos, for anything that has to do with sexy outfit . Because in the CDA you can see that all !